**Complimentary products received in exchange for our honest review. All opinions are ours and ours alone**
Give the gift of beautiful skin while helping people around the world with Green Goo ®. This organic skincare line provides pure, natural and healing ingredients to nourish skin. Green Goo

® believes in using only the highest-quality, natural, beneficial ingredients the earth has to offer… food for your skin! These products are being used with the Mandela Foundation for their portable hospitals, with World Vision for their Somalia team helping with wound care and even John Hopkins! Your purchase and gift will contribute to offering clean products around the globe.
These natural products come in a variety of travel packs that are perfect for anyone on your wish list.
Traveling can wreak havoc on your skin. Keep your face clear and radiant with this travel pack.
Lip Balm – Comes with Citrus Zest and Sweet Honey 100% all natural lip balm to nourish, protect and hydrate cracked lips.
Face Wash –Cleanses and nourishes skin while preventing blackheads and pimples.
Skin Repair –Naturally treats puffy eyes, dark circles, minor burns, scars and wrinkles.
Solar Good –With 30 SPF sunblock and 40 minute water resistant, you'll stay moisturized and protected.
It's better to be safe than sorry. Stay prepared while traveling with this handy kit.
First Aid –Portable First Aid offering symptom relief replacing more than 20 of your traditional first aid products including cuts, scrapes, sunburns, bug bites, even poison ivy and cold sores!
Dry Skin – Soothes extremely dry skin such eczema, psoriasis and hot, itchy flaky rashes and makes for a great heat to toe moisturizer.
Skin Repair –Treats sunspots, wrinkles, and scars with aloe Vera and vitamin E and a nightly anti-aging facial moisturizer.
Pain Relief –Helps with bruises, inflammation, sore muscles, joint pain and sprains.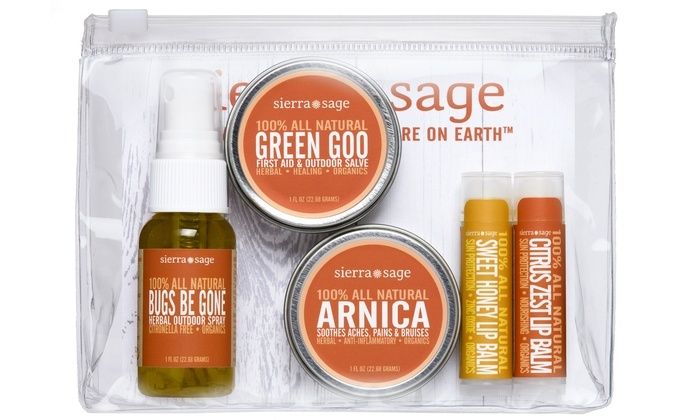 Perfect to bring to all outdoor activities: backpacking, biking, climbing, camping, skiing, rafting, and gardening and more.
First Aid –For dry cracked hands and feet, insect bites, poison ivy and cuts.
Pain Relief –Helps with bruises, inflammation, sore muscles, joint pain and sprains.
Lip Balm –100% all natural lip balm that nourishes, protects and hydrates cracked lips.
Bugs Be Gone –An outdoor bug spray repellent that keeps mosquitoes, gnats, flies, fleas and ticks away.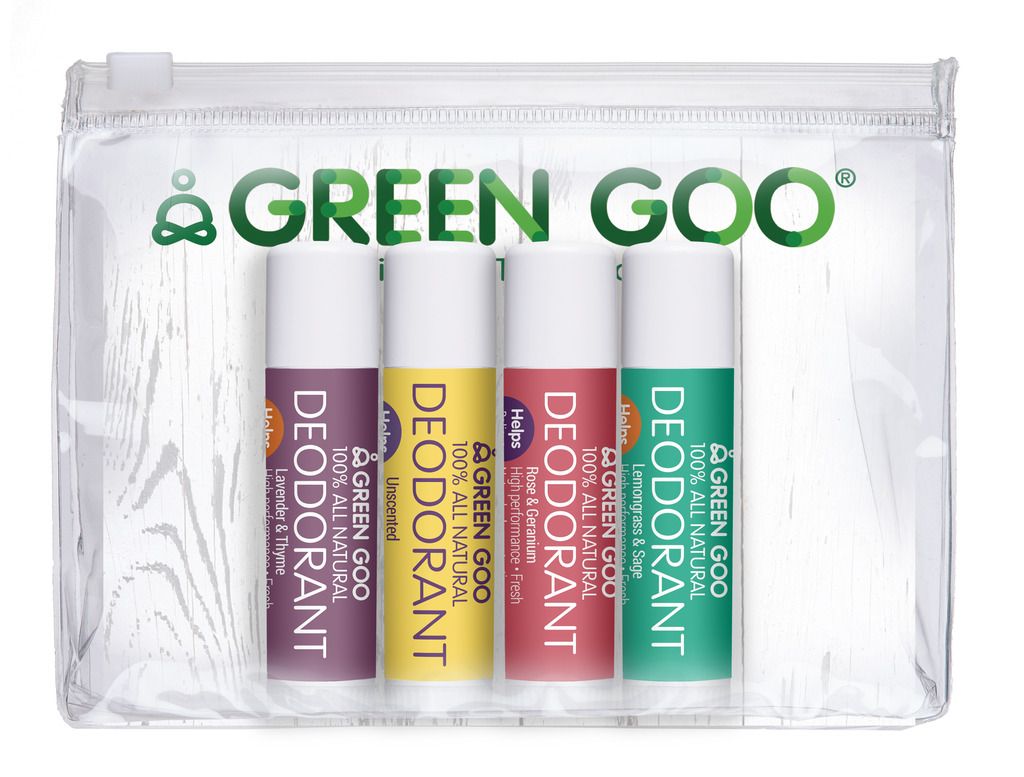 Stay confident through all of your traveling adventures.
Available in 4 different scents Lemongrass and Sage, Rose and Geranium, Lavender and Thyme, and Unscented.
Infused with calendula flowers.
Provides maximum odor protection.
Anti-fungal, anti-yeast and anti-microbial.
Arrow root used as antiperspirant.
Pure essential oils for aromatherapy.
We tried out the Lavender and Thyme and it works wonderfully! It smells awesome too:)
Moms everywhere love this travel set. It has everything they need and can be easily thrown in their purse or diaper bag.
Belly Balm -Great for stretch marks, dry skin, itchy skin.
Baby Balm -Treats baby acne, soothes diaper rash and gently moisturizes from head to toe.
Nursing Cream -For breastfeeding moms who need to soothe their sore and tender nipples.
Sitz Bath Tea Bag -Relax with a delicious cup of tea, it's an ideal treat for postpartum care.
As you can see, Green Goo has something for everyone on your gift giving list! We love giving fabulous gifts that give back and think Green Goo is a lovely choice for gifting this holiday season:)
Visit Green Goo to find out more!
Disclosure: I received one or more of the products or services mentioned above for free in the hope that I would mention it on my blog. Regardless, I only recommend products or services I use personally and believe will be good for my readers. I am disclosing this in accordance with the Federal Trade Commission's 16 CFR, Part 255.