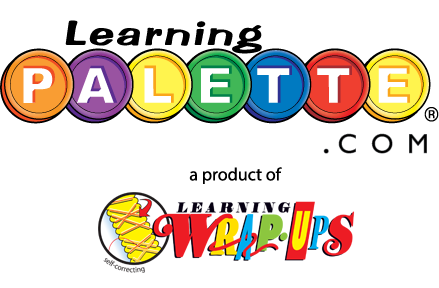 We recently had the chance to review the Full Online Family
Subscription
Learning Palette from Learning Palette Online. This online program is from the makers of Learning Wrap-Ups, those amazing little resources that make learning so much fun! The learning palette is also available as a hands-on product which looks pretty cool, but the online version was lots of fun, too! These palettes are used to help reinforce things your kiddos are learning. I like to think of them as fun and engaging skill builders:)
The Learning Palettes are set up like a game. For every question there is a matching "button" and once you fill all of the holes with buttons, you can check your answers. It took the kiddos a few tries before they could master moving the buttons, but once they did, they loved it! It seemed to be a lot easier for them to move the buttons when they were on the laptop with the wireless mouse as opposed to the Chromebook's built-in mouse. Some palettes were set up in a quadrant fashion were there would be 4 questions per quadrant and those answers would coordinate back to those spots, which narrowed
down
the choices quite a bit. For trickier lessons, this was quite helpful.
The website offers reading and math palettes. The math palettes are available for 6 levels or grades and offer 35 math titles. The reading has 4 levels of play and offers 20 reading titles.
Together
they provide nearly 8000 different questions for kids grades K-5! Lessons covered in Math level 2 were addition, subtraction, greater than/less than, expanded notation, money, fractions, geometry, measurement, probability, statistics,
early
multiplication and much more! Level 4, which is what A worked on was quite similar, but with higher level concepts and numbers plus decimals and percentages. Level 1 Reading offers topics of reading comprehension, cause and effect, nouns, verbs, adjectives,
vocabulary
, phonics, blends and
diagraphs
. I wish the levels would have gone higher for reading because A is in fourth grade and has already
mastered
what this program provides as the highest level in reading. Level 3 Reading
includes
prefixes, suffixes, reading comprehension, vocabulary, grammar, synonyms, antonyms and homonyms. This level is still
great
practice for A to sharpen her skills:)
The family subscription is great because you can use it for several children and tailor each child's account to whatever level they are
needing
reinforcement in. If your kiddos are like mine, they may be in different levels for math and reading. My 5 year old is in level 2 math and level 1 reading. The online program allows us to tailor his palettes to each lesson accordingly. Every level is listed on his account, he just clicks on the one he is needing now and once he masters all of the palettes in a level, he can either play them
again
or move on the the next level.
Overall, my kiddos both really enjoyed the online program from Learning Palette and they ask to play it quite often during computer time. This, to me, is a sure sign of a good educational investment:)
LearningPalette.com is $59.99 for up to five users per year. ABCD Diaries readers can use the coupon code HOMESCHOOL to get a 20% discount on your order!
To read other Crew members' experiences with both the online subscription I received and several of the Learning Wrap-Ups and Learning Palette physical products as well, check out the Review Crew blog!